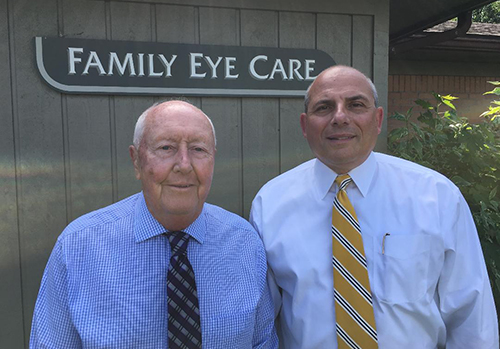 Our doctors, from left to right: Dr. Kime and Dr. Kopan
Dr. Tim Kime, a Toledo native and 2nd generation optometrist, graduated from The Ohio State University College of Optometry summa cum laude. He practiced in Toledo with his father, Dr. Quinton Kime, for 3 years before establishing his own practice in 1964. Dr. Kime has been a proven leader and innovator throughout his clinical career. Additionally, he has had a distinguished leadership career in the profession, having served nearly 30 years in numerous elected and appointed positions at the state and national levels. Dr. Kime is a past president of the Ohio Optometric Association and elected as the 62nd president of the American Optometric Association in 1983-84. He was recognized as Ohio's Optometrist of the Year in 1972.
Dr. Kime and his wife Barb celebrated their 50th wedding anniversary in September 2009. They have three grown children and three beautiful and talented granddaughters. Dr. Kime is an avid golfer, skier, and bicyclist and enjoys traveling.
Dr. Dean Kopan grew up in the Toledo area and is a second-generation optometrist. He returned to Toledo in 1989 and practiced with his father, Dr. Christ Kopan, until his retirement in 1996. Dr. Kopan joined Dr. Tim Kime in 1992 and they formed their current partnership, Drs. Kime, Kopan, and Associates. Dr. Kopan is a graduate of Sylvania Northview High School and received his Bachelor's degree from Indiana University. He earned his Doctorate Degree from the Illinois College of Optometry in Chicago in 1989, where he was a member of both Beta Sigma Kappa and the Tomb and Key honors organizations. Dr. Kopan is a member of the American Optometric Association, The Ohio Optometric Association and the Toledo Area Optometric Society where he served as an officer and past president. Dr. Kopan is married with three children and lives in Sylvania. He enjoys golf, exercise, travel and coaching youth sports.
Office Information
Saturday
8:00am - 12:00pm*
*Office is open select Saturdays November through April, and closed Saturdays May through October.
Appointment Request
Order Contacts
Running low on contact lenses?
Email our office with your contact lens request!
Please be sure to leave your name and the best way to contact you in your message.
Contact us today or visit our appointment request page to find a time that is convenient for you to see us.